FREDRIK SJÖÖ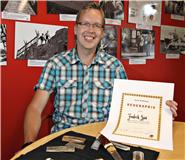 Foto Magnus Eriksson                          
Hello!
My name is Fredrik Sjöö and I live with my wife and three children in a small village called Kristdala on the Swedish east coast.
I make most kinds of knives, but mostly custom folding knives. Each knife is unique with its special design.
 
 I always use materials of high quality as mammoth, fosil walrus tusks and mother of pearl and more.
Are you interested in any knife, knife blade or just have a question please do not hesitate to send an email, I reply as soon as I can.
 
 Best Regards
 

Fredrik Sjöö